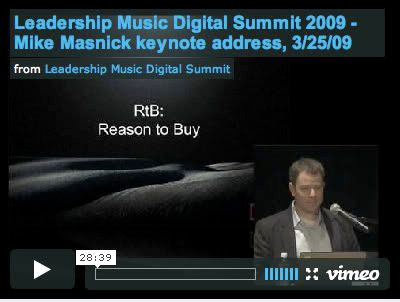 (screenshot)
I've discovered a great keynote presentation from the
Leadership Music Digital Summit
, where Mike Masnick of
Techdirt
shares the details of Trent Reznor' and Nine Inch Nails' recent ventures, and how he believes they are pushing the music industry forward.
"That's great", I hear you say, "you're always going on about
NIN
, but we can't afford to do this or have as many resources". Well, Masnick also shares how other musicians are using similar ideas and implementing them in their own careers. It's not about copying what
Reznor
thinks, he's a pioneer and can do things on a grand scale thanks to selling million of albums, concert tickets and merchandise items. But you can learn to think outside the box; detach yourself from the idea that music is a product that you must sell via a record label. Experiment, and think about all the revenue streams, technical possibilities, and other perks and positive impacts that you can generate from your music endeavours.
It's only 25 minutes long, so grab some coffee and
head over to the US Music Jobs blog post to check out the video
...
Lee Jarvis.