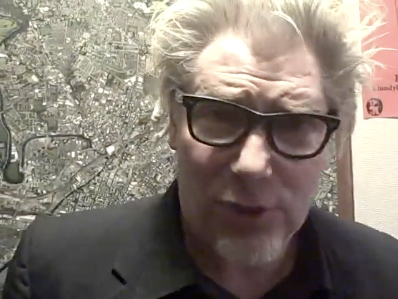 Saturday morning, like so many mornings, began well. I awoke at 9am, got myself a glass of water and... promptly fell back to sleep. Being late for the '
Bands as Enterprise
' panel was not good move - it was one of the most popular of the weekend. Lack of being able to get a seat and plug in my dying laptop meant a lack of notes on my behalf, and with
Martin Atkins
on the panel, there were plenty of golden nuggets of information worth re-publishing.
Luckily, several other attendees did just that, and I was even able to catch up on the parts i'd missed via the wonders of technology and Twitter. This is probably also a good time to share links to fellow unconvention-ers and their websites, projects and Twitter handles, so here we go....
"Don't give up your day job - just keep going until you get fired."
-
Steve Lawson via Twitter
"Live contracts are a red herring. You need an audience to get paid."
-
Steve Lawson via Twitter
"At the moment it feels a bit like 1977 again."
-
Just Press Play blog
"You need fans before you need the guy that is the laywer for The Eagles."
"Build momentum, before you start thinking about business structures."
"If you can sustain you can succeed. You will need to focus and make choices. When your bet on everything it will blow up in your face."
"The moment you have the leverage to get the deal you think you wanted, you don't need the deal any more."
"There simply is NO ONE WAY to 'monetize' making music. There are a million different ways. Find the way that suits you."
-
Dutch blog Lopend Vuur
(Dutch for 'Walking Fire')
Also, I'm happy to share this video from Unconvention organiser Ruth Daniel (great work, and thanks for an awesome weekend, Ruth!)
Martin Atkins at Un-Convention Salford 2009 from Ruth Daniel on Vimeo.
After a short while, Martin's passion and knowledge of the music industry, as well as his no-holds-barred attitude is obvious. Even
Andrew Dubber
has to
agree
that he can see why people have described Martin Atkins as "New Music Strategies with swearing".
After checking out the other Unconvention attendees linked above (all knowledgeable and passionate also), I strongly suggest you research Martin's
Tour:Smart website
and purchase his
Tour:Smart book
, as it'll teach you more about touring and the dynamics of a band than I could hope to summarise in this post ;)
Lee Jarvis.