Funky Thang
Any day now sees the release of Chemars' Funky Thang single, which also comes with a remix by yours truly. I'm a fan of
Chemars
' music: it was great to work with some smooth jazzy samples, and I was able to really put my stamp on this release. Give it a listen here...
Chemars - Funky Thang (Lee Jarvis' Sneaky Thang remix) (320promo) by Lee Jarvis
Chart-y Thang
I was asked to compile a chart for online digital store
Stompy
. A great opportunity to share some great tracks that have been doing it for me recently, and spread the love about some very talented producer and label buddies...
http://leejarvis.blogspot.com/2009/12/lee-j-dj-nov09-funky-thang-chart-y.html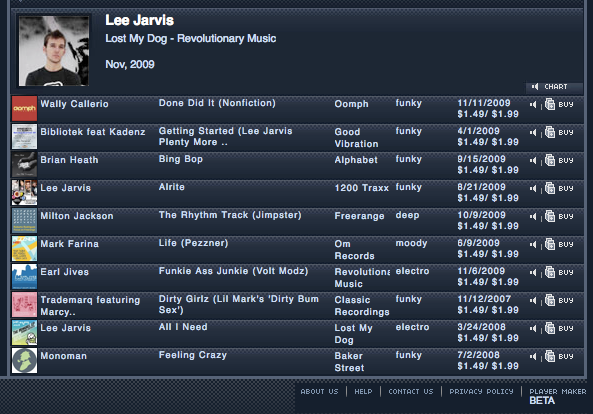 Gig-gy Thang
Lastly, I'm off to Minnesota this coming weekend, for a gig with
Hotdish
(aka Nate Laurence and J Matthews) at Minneapolis' premier music venue, First Avenue. If you happen to be in the area, hit me up,
come dance, and be merry with us!
The Hotdish guys also put me through a grueling
DJ interview
and have one of my classic
DJ mixes
to stream and download.
That's it for November, see you next month!
(Last month - Lee J the DJ Oct'09 - New Studio Purchase / New Remixes / New York DJ and Production School)
Lee Jarvis.